Lets Explore Dubai & Mauritius Together
Dubai - Mauritius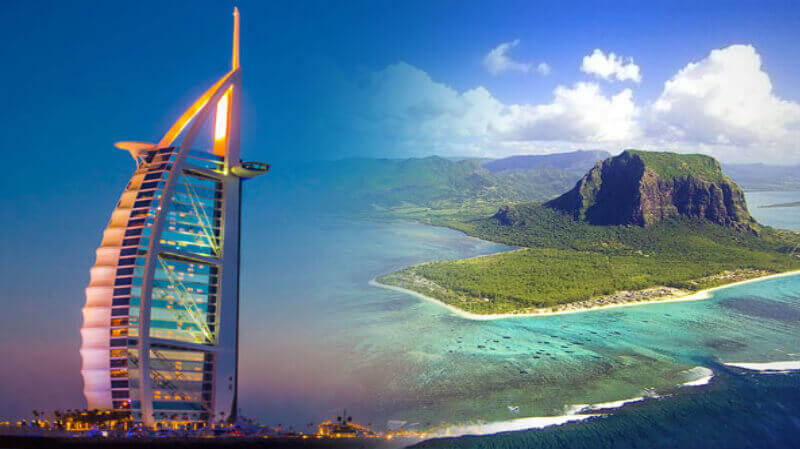 Lets Explore Dubai & Mauritius Together
Book Now
Beach , Family , Honeymoon , Luxury , Romantic , Spa & Wellness
Departure : Mauritius
Mauritius—so far away yet seeming so familiar. You will be fascinated with Mauritius, a shining jewel amid the azure waters of the Indian Ocean. The island is so charming due to the contrast of colours, cultures, and tastes that the stage is prepared for an amazing vacation.
You have the chance to enjoy unrivalled luxury here, with a degree of sophistication that surpasses that found in other tropical vacation spots. You will learn the genuine meaning of "beauty" here, which will inspire you to visit Mauritius' coasts repeatedly.

Contact Riviera Tours and Travel for
Mauritius Exotic Packages:Mauritius Kids Special Packages ;Mauritius Luxury Packages ;Mauritius Wildlife Packages: Mauritius Beach Packages:Mauritius Family Packages ;Mauritius Fly And Stay Packages; Mauritius Bestseller Packages; Mauritius Winter Packages;Mauritius Sightseeing Packages; Mauritius Romantic Packages ; Mauritius Shopping Packages;Mauritius Adventure Packages; Mauritius Cruise Packages; Mauritius Affordable Packages >>
for more details and getting quote just call us or write to us on info@rivieratours.in
Tour Highlights
Round Trip Dubai Airport transfers
Mauritius return Airport transfer

ACCOMMODATION

4 Night(s) in Dubai at Al Manar Grand Hotel Apartments/ Hampton by Hilton Dubai Airport/ Imperial Suites Hotel/ Rolla Residence Hotel Apartment/ Studio M Arabian Plaza or similar
4 Night(s) in Mauritius at Seaview Calodyne Lifestyle Resort/ Tarisa Resort and Spa or similar

SIGHTSEEING

Dubai, United Arab Emirates

Dubai Half Day City Tour with Oneway Monorail Ride
Desert Safari with BBQ Dinner (4 x 4 Vehicle)
Dubai Mall with Burj Khalifa 124th Floor (Non Prime Time) and Fountain Show

Mauritius, Mauritius

Mauritius North Island Tour
Mauritius - South Tour
Ill Aux Cerf tour with Speed Boat transfers
MEALS
8 Breakfast
5 Dinner
VISA & TAXES
Dubai visa with OTB
5 % Dubai Vat
Day Wise Itinerary
DAY 1: Check In Burj Khalifa 124th Floor
Welcome to Dubai. You will arrive at the Dubai International Airport. Please Double check your entry stamp of Dubai just after you pass through immigration.After completing all the process you will depart for check in to your Hotel.Hotel Check in upon arrival is strictly at 1400 hrs & Check out 1200 hrs in Dubai.Later visit the world's largest shopping mall - Dubai Mall, evening enjoy the Fountain show at Dubai Lake. Later you will visit the World's tallest tower Burj Khalifa @ 124th Floor Observatory Deck from At the Top.Overnight at Hotel.

*Please Note : Itinerary May Change As Per Your Flight Arrival & Departure Timings.
DAY 2: Dubai City Tour With One Way Mono Rail Ride

Morning after breakfast you will depart for Dubai City Tour. Also you will enjoy a one way Mono Rail ride on the beautiful Palm Island. Enjoy Dubai Sky scrapers & beauty of Jumeirah beach.Overnight at Hotel.
Breakfast

DAY 3: Desert Safari (Breakfast, Dinner @ Desert Camp)

Morning after breakfast, Half day is free for leisure or shopping on your own.Afternoon you will depart for Desert Safari. Where you will enjoy the dune bashing ride in 4x4 Wheel cars. In the Desert you will enjoy the camel ride, Tanoora Show & Belle Dance. Later you will enjoy the BBQ Dinner in the camp. Quality of food will be ok.Overnight at Hotel.
Breakfast Dinner

DAY 4: Free For Leisure, Shopping Or Optional Activities

Morning after breakfast, a day is free for leisure , Shopping or optional activities on your own.Overnight at Hotel
Breakfast

DAY 5: Check Out Frrom Dubai And Depart For Airport

Morning after breakfast, Check out from hotel. Check out time is 12:00 Hrs. Day is free for shopping on your own.Later you will depart for Dubai International Airport with a last minute Glimpse of Dubai.Boarding in flight for Mauritius.Arrive at Mauritius Airport. Welcome to Sir Seewoosagur Ramgoolam International Airport of Mauritius, the destination of beach lovers.Transfer to hotel as per your reservation. Evening is free to enjoy the beautiful beaches of Mauritius.
Breakfast

DAY 6: North Tour

Morning depart for a full day North tour to Port Louis the capital of Mauritius. Visiting the historical buildings of Port Louis, La Citadelle – a stone fortress situated on top of a hill offering a magnificent view of Port Louis, Caudan waterfront - It has many shops, food courts, craft market, movie theatre, casino etc. On tour you have an option of taking world famous Pamplemousses Garden which was renamed in 1988 in honors of the late Prime Minister, total 60-acre garden boasts 500 different species of plants, of which 80 are palms. (On your own).
Dinner

DAY 7: South Island Tour

Morning depart for full day South Island tour, visit the craters of Trou Aux Cerf's - an extinct volcanic crater covered with greenery and offering a breathtaking view, sacred lake of Grand Bassin - according to Hindu mythology, Lord Shiva carrying the water of The Holy Gangas, dropped a few drops on the island and a lake was formed. One of the island's two natural lakes, later depart for Black River Gorge &Chamarel – seven colored earth - where volcanic ash colored is naturally displayed in 7 different colors - red, brown, violet, green, blue, purple and yellow never erode in spite of torrential downpours and adverse climatic conditions.
Breakfast Dinner

DAY 8: Ile Aux Cerf Tour

Morning depart for 'ILE AUX CERF' tour. This magical place, with limpid lagoon, white sand and palm fringed beaches must come close to paradise. A day will have surely provide the abiding memory of Mauritius, with water- sport facilities like water ski(on your own), banana boat (on your own) & speed boat ride (on your own) are available.
Breakfast Dinner

DAY 9: Back Home

Take a last glimpse of Mauritius & later depart for your flight to back home with pleasant memory of you tour.
Breakfast Dinner
Tour Inclusions
All transfers on SIC or PVT Basis as per your selection
Round Trip Dubai Airport transfers.
Mauritius return Airport transfer
Dubai visa with OTB Charges ( 6 to 7 working days )
5% Dubai VAT.
Economy Class Return Airfare
Tour Exclusions
Cost of Any Personal Expenses
Travel Insurance
Cost of meal other then mentioned above
Guide Tips and any other item except "Package rates Includes"
5% GST Will Be Applicable On Total Tour Cost.
Dubai Tourism Dirham Tax
Date
Best Time to Visit
Climate
Mauritius enjoys a relatively mild climate. Although temperatures are rather moderate throughout the year with occasional rainfall, the most pleasant times to visit the island are between the months of April and June and between September and December. As Mauritius is located in the southern hemisphere, the summer and winter months are opposite to seasons in Europe.
Seasons Summer: November to April
The weather is hot and humid during these months, with peaks in temperatures occurring in the months of December, January and February. Rainfall is abundant, especially on the central plateau. The highest rainfall normally occurs in the months of February and March. Daylight hours typically run from 5.30am to 7.00pm.
This is the best time for scuba diving – especially December through to March – and for deep-sea fishing. The cyclonic season extends right the way through from November to April. Most of the time, the cyclones manage to avoid Mauritius because of the small size of the island. However, if they come close enough, the bad weather may affect vegetation and certain wooden buildings. Please rest assured that beach resorts have been constructed in such a way as to be able to resist strong cyclonic winds.
Winter: May to October
The temperature is cooler during this season, and prevailing winds tend to blow over the island from the east and south-east. The lowest temperatures are felt in August (20°C on the coast). Daylight hours typically run from 6.45am to 5.45pm. This is the best season for surfing (June to August).
Map
Sightseeing
Dubai, United Arab Emirates

Dubai Half Day City Tour with Oneway Monorail Ride

Dubai has become famous tourist destination in the World because of its skyscrapers, high-rise buildings and warm Hospitality. Half Day Dubai City Tour allows you to see both sides of the city in a single fascinating tourist adventure. We will take you on a guided tour through some of the most popular attractions in a air-conditioned vehicle that will pick you up and take you back to your hotel. Let's take a short look what this tour has to offer you:
For the Dubai city tour you will be welcomed by Guide or driver come guide. Tour will commence with attendance and introduction by guide. You will see glimps of Dubai city and its major landmarks like Burj Al Arab Hotel – the world's only seven-star hotel that is especially noted for its distinctive silhouette resembling a billowing sail, the Palm Island – the crescent shaped man-made island, Atlantis Hotel and Burj Khalifa – the towering building that is one of its kind in the whole world. And while you reach palm island experience oneway monorail ride which will give you aerial view of palm island. Then a photo stop to well-maintained Jumeirah Beach will provide you with a unique opportunity to immerse in the city's natural beauty.

Desert Safari with BBQ Dinner (4 x 4 Vehicle)

Enjoy a memorable evening of food, dance and entertainment on a thrilling Dubai desert safari. Embark on an electrifying ride over the desert sand dunes and spend an evening in a traditional Bedouin camp. You have an option to enjoy quad bike and dune buggy ride in Dubai desert. Enjoy a host of desert activities like camel rides, henna tattoos and live belly dance performances. Round up the evening with a sumptuous BBQ dinner.

Dubai Mall with Burj Khalifa 124th Floor (Non Prime Time) and Fountain Show

The Burj Khalifa soars to 828 meters through the clouds and, as well as featuring the highest occupied floor of any building in the world, also boasts the highest outdoor observation deck. From your vantage point on the 124th floor, you will experience first-hand this modern architectural and engineering marvel while experiencing unobstructed 360-degree views of the city, desert and ocean.Ascend to the amazing 'At the Top' 124th floor Observation Deck by high-speed elevator, travelling at 10 meters per second. The doors open to reveal floor-to-ceiling glass walls and spectacular unobstructed 360-degree views of Dubai and beyond. From your lofty position you will be able to really appreciate Dubai's 21st century skyline, the desert and the sparkling waters of the Arabian Gulf. If you wish, adventure outside onto the open-air terrace to enjoy another perspective of the sweeping views below.
For Burj khalifa Observatory must carry your Burj khalifa slot ticket or voucher with your valid ID proof (passport copy). To find your way to visit the Burj Khalifa Observatory Deck look for At The Top Signboards or simply approach the nearest Information Desk.
Fountain show you can enjoy Between 6 pm to 11 pm every half and hour. it will be 2 or 3 minutes of musical fountain performance on different songs.

Mauritius North Island Tour

Mauritius is the land of stunning contrasts and spectacular beauty. Along with the Islands coastline you will find a string of vibrant fishermen villages and vast sandy beaches. All this make Mauritius a dream destination for all the travelers. It has so many places to explore and make your holidays memorable. You can stroll through the Port Louis central market, get some fresh vegetables, fruits and yes especially have fun while bargaining with vendors. Get the best rates and shop your heart out.

Mauritius - South Tour

South Mauritius will leave you mesmerized with its spectacular beauty. The sparkling waters will steal your soul, and if that doesn't suffice you cannot definitely miss out on the natural beauty. Amidst the natural beauty you will be awe-strucked by the peace and tranquillity. It is a place where your mind, heart and soul will be at peace. Let you cameras witness the place which is beyond beautiful and surely a place where the words would fall short to define the beauty of this place.

Ill Aux Cerf tour with Speed Boat transfers

Île aux Cerfs Island , known in English as the deer island is an island near the east coast of Mauritius in the Flacq district. This paradise island of Mauritius constitutes of around 100 hectares of land. Nowadays there are no more deers on the island, but you will find there some of the worlds beautiful beaches and as such it is one of the must place to visit and see in Mauritius. Ile Aux Cerfs is famous for its sandy beaches, beautiful lagoon and big selection of activities and facilities. In Ile Aux Cerfs you are sure to have a day of relaxation and fun on one of the picture-postcard beaches, and to enjoy a swim and snorkeling in the lagoon. Every day, tourists visit Ile Aux Cerfs and spend the whole day on the island and benefit from the range of facilities and activities offered on the island. During recent years Ile Aux Cerfs Island became one of the most popular tourist destination in Mauritius.
Arrive at Trou D'eau Douce and embark on a speedboat to reach Ile aux Cerfs. As part of this speed boat trip you will get to enjoy sailing through the crystal clear water of the east coast lagoon with breathtaking scenery all around. Pick up by speedboat at the jetty and reach the shore.
This tour offers several water sports activities such as UnderSeaWalk & Parasailing at an additional fee per person.


Photo Gallery
Video Gallery
Tour FAQs
Given cost is estimated, based on lowest hotel rates existing as of now. We dont hold any confirmation for Hotels/Airline. Its subject to availability at the time of booking. Any difference in cost shall be borne by the passenger.
Any further increase in airfare due to increase in the fuel prices, change in government regulations, taxes, etc. charged by the airline will have to be borne by the passengers. Riviera will not be held responsible for them. Above rates are subject to change without prior notice.
Above rates are calculated as on todays ROE.
Above rates are subject to availability & confirmation by the airline & Hotel.
Water is always available at additional charges. No separate water bottle supply during Breakfast, Lunch & Dinner. It could be common water Jars as per their policy. Kindly purchase the water for your own usage.
Things to carry: Beach wear, slippers, Sunglasses, Sunscreen lotion, a light sweater, Toiletries, Medicines, Camera Rolls, Tea/ Coffee sachets, Umbrella, windcheater.
Your tours and transfers are based on Seat in Coach Basis. Seat in Coach Transfers departs only at fixed time and stops at different Hotels enroute where other passengers may be picked /dropped off. It can be more time consuming but economical.
Mid night surcharge applicable for all transfer operated between 2300hrs-0600hrs
Room allocation Twin rooms /Double room will be as per the availability at the time of check in. 90% of rooms are Twin rooms and there is no guarantee for room with Double Bed.
Room Rates based on Standard Rooms. Supplement cost will be applicable for Sea facing/Lake Facing Rooms.
Optional sightseeing has to be booked in advance on your own by paying an additional cost. You can contact Hotel travel desk counter or our agent to book optional sightseeing.
It is recommended to buy Local SIM Card, to make local calls for reconfirmation with coach drivers, operators, airline office...
There is No Refund for unutilized Service
International Hotel Check in time 1400hrs, Check out Time 1200hrs
You are not allowed to eat/drink in coach.
The above program is only indicative and the passenger has to verify each days program from the local guide.
Photographs are compulsory for on arrival visas. Please keep one passport Copy Xerox and one Ticket copy Xerox ready to be submitted for on arrival visas.
It is always advisable to keep 2 Photographs with you during the journey. Please keep one Xerox copy of your passport with your relative, in India and one Xerox copy of passport with you during the travel.
It is most important to have International Travel Insurance for the entire period of your stay in foreign country.
If any refund it will be processed only by Cheque.

Note:

New Year surcharge rates are not available in above given rates.
5% Government Tax Applicable On Total Tour Cost (INR+USD).
Full Payment Will Be Accepted In Indian Rupees only.
Dollar Portion Payment Should Be Done At One Time & Rate Of Exchange Will Be Applicable On That Day.
To Grab The Honeymooners Freebees Wedding Card Is Must.
For NRI Passengers staying in India for more than 180 days will have to take Police Clearance Certificate from Commissioner of Police for which Riviera will not be responsible Passengers are requested to submit Xerox copy of Passport along with page showing arrival stamp in India.

Payment Policy

Initial deposit - Rs. 25,000/- to confirm youre booking with us.
100% payment is to be made on or before time limit which will be given once the Hotel is blocked Total Payment in INR as per the prevailing exchange rate on the date of Final payment.

Cancellation Policy

35 Days prior to Departure or at the time of Booking Confirmation whichever comes first 25% of Total tour cost.
34 Days to 15 Days prior to Departure 50% of Total tour cost
14 Days to 1 Day prior to Departure 100% of Total tour cost.
Cancellation in Airline tickets will be as per Airline terms and condition
In case of non-refundable hotel and Hotel deadline cancellation amount will be charged accordingly