About the Brand:
"Travel is the only thing you can buy, that makes you richer"And we believe the same philosophy from day one of our start up..
Started in 2007 from a small set up of 3 team members today we are a big team of expertise in travel and tourism. We are famous as a luxurious International Tour Operator based out of Ahmedabad, especially for MICE, Honeymooners and Family Travel. Our clients are our backbone and biggest advertisers. We have a 100% repeat customer ratio. We aspire to become the chain of multispecialty travel and tourism brand and always wish to give value for money holiday to our patrons seeing the world.
Our philosophy helps us to look at our enterprise as a place of worship, a place of continual accumulation of knowledge and a place where we celebrate mankind's curiosity of seeing the world. Be it business travel, visiting friends & relatives, India or abroad group tour, Individual tour plans (single families) or customized group tour package we take care of all travel requirements. Our team is strong with most members have travel experiences of various kinds in various countries with in-depth knowledge of the country's history, geography & current scenario. They guide the guests on tour as their Tour Leaders.
Vision
We look beyond the horizon to anticipate change. We're passionate about shaping the next generation of business & Leisure travel.
Mission
Riviera Tours' mission and passion are to serve tourists for exploring the world and offer – in life-altering experiences. Our success is measured by visitors who choose to return again and again with us, and who encourage their friends and family to visit the world of their choice. We are deeply committed to be the benchmark in service excellence, offering educationally and experimentally enriching programs and innovative content with added value at competitive prices.
Core Values : Fun – Fair – Focused
Fun One of our main goals in that all the people involved enjoy their work, are excited to come to the office and leave with a smile on their faces at the end of the day. Having fun at work is the basis for our success and it is a crucial factor for us.
Fair Another important cornerstone in our company is fair treatment amongst each other. This refers not only to relationships amongst employees, but also applies to the relationships with our guests, business partners and local communities. We guarantee sustainable organized trips that were fairly negotiated with our service partners. Each employee is also participating fairly in the company's success.
Focused Each of our mono brands is specialized in a particular niche and a certain product. This specialization allows us to offer exclusive know-how and service to our customers, and thus represents a significant competitive advantage. This focus permeates the entire company, every employee is focused on his or her daily work and on the tasks and milestones that are important for the joint achievement of corporate objectives.
Objectives:
Provide a high standard of services suitable for individuals seeking relaxing, comfortable and memorable experiences in the hospitality and tourism industry.
Provide the tourist market with the quality personal required by the tourism industry.
Produce expeditions and memories that would satisfy each and every single of the customers.
Evaluate current cultural, economic, and social issues affecting the tourism and travel industry.
Participate in both local and regional community service by providing general lectures, consultation, and training programs.
MILESTONES & Defining Moments – Year Wise
1992 :

INCEPTION AS RIVERA TRAVEL AGENCY

1995 :

AUTHORISED TRAVEL AGENT FOR ONGC FOR CAR RENTALS

1999 :

RECONGISED BY INDIAN RAILWAYS AS RTSA - AGENT

2004 :

ACCREDITED BY IATA

2007 :

BRAND RIVIERA TOURS AND TRAVEL BORN

2011 :

AWARDED BY GUJARAT TOURISM, BECAME ACTIVE MEMBER OF TAAI, TAG

2016 :

COMPLETED BIGGEST ROTARY DISTRICT CONFERENCE OF 3000 PERSONS

2018 :

AUTHORISED TOUR OPERATOR FOR ROTARY CONVENTION – CANADA

2018 :

RECEIVED CERTIFICATE OF HONOUR – AS INDIA'S MOST PREFERRED (IMP) Travel and Tourism Brand
BRAND USP: a travel management company – makes travel smooth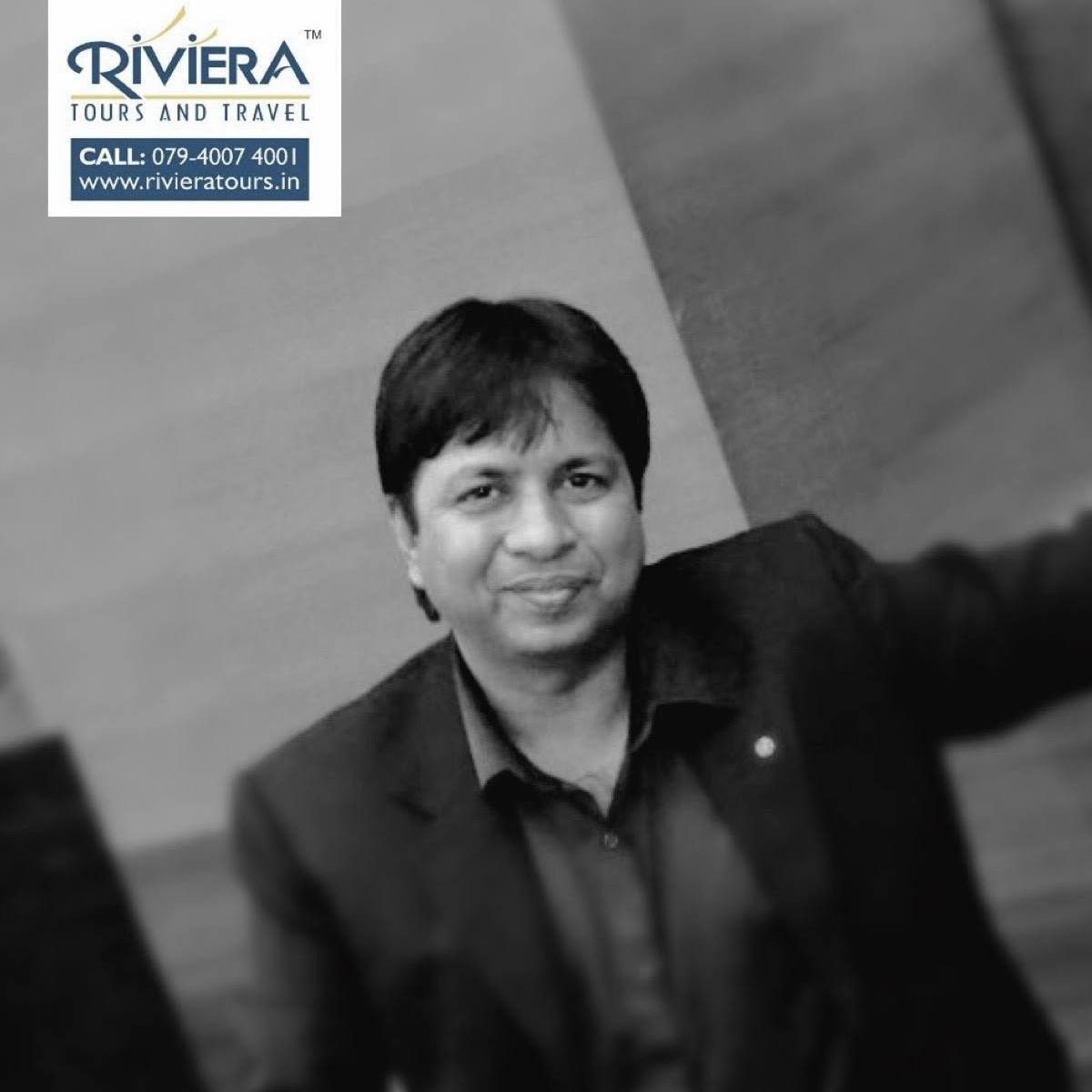 Thank you for your continued support and the confidence that you have placed in us. As we build the foundation of success, we completely recognize the trust you place in us and with your continuous support, we assure to maintain our best-in-class service.
For Riviera, you are the center of everything we do. Thus, with every tour, we ensure working tirelessly to meet and outstrip your expectation in an enjoyable and responsible way.
Innovations are what Riviera loves Creating!!!
Whether it's a corporate tour, romantic delight, adventurous junkies or just a Short Break , we have ample of tour choices to suit the most of your taste, requirement and budget. So Hurry up and book a Holiday with Riviera !