Memorable Turkey
Kusadasi , Pamukkale , Antalya , Cappadocia , Istanbul

Adventure , Family , Hill Station , Honeymoon , Luxury , Off Beat , Romantic
Departure : Arrive from Anywhere to Istanbul
Turkey, officially the Republic of Turkey, is a transcontinental country located mainly on the Anatolian peninsula in Western Asia, with a smaller portion on the Balkan peninsula in Southeastern Europe.
Tour Highlights
FLIGHT & TRANSPORT
Private Vehicle as per pre planned Itinerary
ACCOMMODATION
1 Night(s) in Kusadasi at 4 Star or similar
1 Night(s) in Pamukkale at 4 Star or similar
2 Night(s) in Antalya at 4 Star or similar
2 Night(s) in Cappadocia at 4 Star or similar
3 Night(s) in Istanbul at 4 Star or similar

SIGHTSEEING
Istanbul, Turkey
City Tour covering European Side
Entrance to Hagia Sofia
Explore the exceptional Hagia Sophia and Topkapi Palace
Free time for Shopping at Grand Bazaar
Blue Mosque
Explore top choice Bazaar-Spice Market
Dolmabahce Palace
Bosphorus Cruise
Cappadocia, Turkey
Goreme Open – Air Museum
Antalya, Turkey
City Tour of Antalya
Visit to Duden Waterfall
Pamukkale, Turkey
Ruins of Ancient Roman City Hierapolis
Kusadasi, Turkey
House of Virgin Mary ( Meryemana )
Ephesus ancient city
MEALS
9 Breakfast
8 Lunch
9 Dinner
Day Wise Itinerary
DAY 1: Istanbul - Izmir - Kusadasi
Arrival to istanbul ataturk airport and directly proceed to domestic flights section for our flight to izmir. Upon arrival to izmir adnan menderes airport, transfer to your hotel for check in process and free time at leisure. Dinner at hotel. Overnight in kusadasi.
Dinner
DAY 2: Kusadasi - Ephesus - Pamukkale
After breakfast at the hotel, we visit ephesus ruins, including the polio fountain, the temple of hadrian that dedicated to the emperor hadrian in 138 ad. Then we visit great theatre, the largest ancient theatre with 25,000 seat capacity. Later we visit library of celsius, one of the most beautiful structure of ephesus, built in 117 ad. Our last stop is the shire of virgin mary, where mary may have spent her last days. Visit leather outlet factory. Proceed to pamukkale. Dinner at hotel. Overnight in pamukkale.
Breakfast Lunch Dinner
DAY 3: Pamukkale - Antalya
Breakfast at the hotel and start sightseeing to enjoy natural spring water beauty with history; pamukkale, meaning cotton castle in turkish, is a natural site that contains hot springs and travertines, terraces or carbonate minerals left by the flowing water. Hierapolis is the place where you will see the necropolis, the biggest cemetery of anatolia with 1,200 graves. We will have free time to walk on warm water terraces, where people have bathed in for thousands of years. In the afternoon we drive back to your hotel. Proceed to antalya. Dinner at hotel. Overnight in antalya.
Breakfast Lunch Dinner
DAY 4: Antalya
After breakfast depart for city tour of antalya. You will visit hadrian's gate, the clock tower at kalekapisi, republic square and with its dramatic statue and excellent views of the mediterranean coast and the distant olympos mountains. Later we will drive to karpuzkaldiran waterfall, karpuzkaldiran waterfall called as lower düden waterfall. This waterfall is the highest as it is approx. 30 meters high and the water gushes down onto the massive rocks with great force. Dinner at hotel. Overnight in antalya
Breakfast Lunch Dinner
DAY 5: Antalya - Konya - Cappadocia
After breakfast at the hotel, we will drive to cappadocia via konya. Today's ride will be fairly long and tiring due to the long distance between cappadocia and antalya and lack of convenient lodging location. Drive to konya to visit to the mausoleum of mevlana, the world-wide famous mystic figure. After arrival, we will drop you to the hotel in cappadocia. Dinner at hotel. Overnight in cappadocia
Breakfast Lunch Dinner
DAY 6: Cappadocia
After breakfast start sightseeing to explore cappadocia deeply. Visit goreme, a kind of open air museum that contains the finest rock-out churches and beautiful frescos. After this we visit kaymakli, the widest underground city of the region. Then visit pigeon valley with many different rock formations and hundreds of pigeon houses. Dinner at hotel. Overnight in cappadocia.
Breakfast Lunch Dinner
DAY 7: Cappadocia - Istanbul
After breakfast at the hotel, proceed to kayseri or nevsehir airport for our flight to istanbul ataturk airport. Upon arrival to istanbul, proceed for lunch. Later visit golden horn (from the bus), the arm of the bosphorus and a natural harbour of the historical peninsula separating the old and the new parts of istanbul where the first colonies settled during the byzantines. Spice bazaar (egyptian bazaar), mystical smells of different aromas of various spices. Shops selling fruits, vegetables, fish, flowers etc. Bosphorus cruise, through the waterway separating the two continents, europe and asia, with a possibility to take photographs of marble palaces, ancient wooden villas of ottoman architecture besides modern residential and luxurious apartments. Rumeli fortress (from the boat - no interior visit), historical armament built by the conqueror to control and protect the bosphorus. A unique example of military architecture. Dinner. Overnight in istanbul
Breakfast Lunch Dinner
DAY 8: Istanbul
After breakfast depart for tour of "sultan ahmet center", the heart of the "old city" from where the byzantine and ottoman empires were ruled. Hagia sophia, one of the greatest marvels of architecture, constructed as a basilica in the 6th century by emperor justinian. Blue mosque, facing hagia sophia, famous with its blue iznik tiles and unique with 6 minarets, built in the name of sultan ahmet. Hippodrome, center of sportive events (chariot races, athletics) and political activities of the old city. Serpentine column, obelisk of theodosius and german fountain of wilhelm ii are the monuments decorating the hippodrome. Grand covered bazaar, most attractive shopping center and the biggest "souk" in the world with nearly 4000 shops selling antiques, jewellery, gold, carpets, leatherware and souvenir.topkapi palace, residence of ottoman sultans exhibiting imperial treasury, sacred islamic relics of prophet mohammed, kitchen, chinese porcelain, weapons, calligraphy section etc. Live guide commentary is not allowed in special sections. Rüstempa?a mosque, designed by the court architect sinan for the grand vizier of süleymanthe magnificent. A typical sample of islamic architecture amidst the rows of shops near the spice bazaar, famed with its exquisite and colorful tiles set in floral and geometricdesigns.dinner at indian restaurant. Overnight in istanbul
Breakfast Lunch Dinner
DAY 9: Istanbul
After breakfast depart for dolmabahçe palace, recent residence for ottoman sultans built by two ottoman architects karabet and nikogos balyan. Later depart to visit, miniaturk. Miniatürk is a miniature park situated at the north-eastern shore of golden horn in istanbul, turkey. The park contains 122 models done in 1/25th scale. 58 of the structures are from istanbul, 52 are from anatolia, and 12 are from the ottoman territories that today lie outside of turkey. Later depart to pierre loti. Dinner at indian restaurant. Overnight in istanbul
Breakfast Lunch Dinner
DAY 10: Istanbul - Home
After breakfast at the hotel, free time at leisure till checkout time and transfer to istanbul ataturk airport for your flight back to home.
Breakfast
Tour Inclusions
Private Vehicle as per pre planned Itinerary
Tour Exclusions
Airline

Visa

Cost of Lunch & Dinner (Expect mentioned above)

Tourist city tax payable directly by the passenger only at each hotel.

Entrance to Sightseeing (Except Above)

Medical Insurance

Any personal expenses i.e. Laundry, Tips, Phone etc.

Anything which is not mentioned in Inclusions.

Any surcharge applicable during your travel dates.
Hotel
1 Night(s) in Kusadasi at 4 Star or similar

1 Night(s) in Pamukkale at 4 Star or similar

2 Night(s) in Antalya at 4 Star or similar

2 Night(s) in Cappadocia at 4 Star or similar

3 Night(s) in Istanbul at 4 Star or similar
Map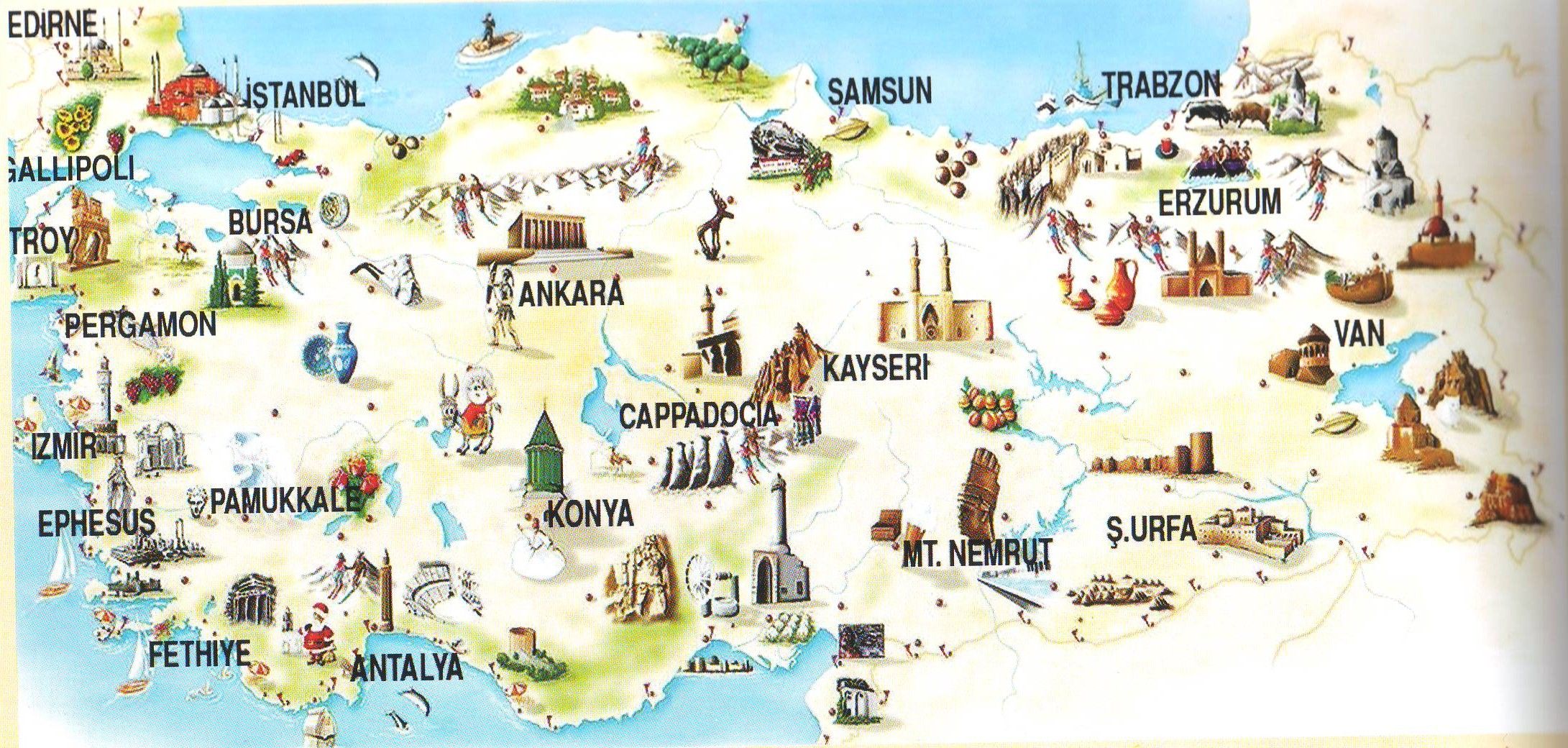 Sightseeing
Istanbul, Turkey
City Tour covering European Side
Istanbul is the largest city in Turkey but it is not the capital city. The leading industrial, commercial, cultural and sport center of the Turkey. The city is stiuated on both sides of the Bosphorus, the strait that separates Euro and Asia. The European side of the city is divided by the Golden Horn. The north of Istanbul city is Black sea and south of city Marmara sea.
The Istanbul is one of the most unique cities in the world, where one can observe the diverse daily life in a setting of ancient history and natural beauty. Most important visiting places are Hagia Sophia, Topkapi Palace, Blue Mosque, Hippodrome, Grand Bazaar, German Fountain, Egyptian Obelisk, Serpentine Column, Constantine Column, Turkish and Islamic arts museum, Sphendone, Basilica Cistern, Caferaga Madrasah, Spice Bazaar, Bosphorus Cruise, Bosphorus Bridge, Dolmabahce Palace, Beylerbeyi Palace, Camlica Hill, Galata Tower, Holy Chora Church, Arasta Bazaar, Pierre Loti Hill, Taksim Square, Istiklal Street, Byzantine City Walls, Eyup Mosque, Suleymaniye Mosque, Rumeli Fortress, Princes' Islands. Also Istanbul night life will be interesting for you, for example Bosphorus Dinner Cruise or Oriental Turkish show in night club. You can go out of Istanbul day tours also. You need minimum 3-4 days to see all of them. You can see below of the page Istanbul City Tours for half day tours or full day tours.
Entrance to Hagia Sofia
Entrance to Hagia SofiaThe great church of the Byzantine capital Constantinople (Istanbul) took its current structural form under the direction of the Emperor Justinian I. The church was dedicated in 537, amid great ceremony and the pride of the emperor (who was sometimes said to have seen the completed building in a dream). The daring engineering feats of the building are well known. Numerous medieval travelers praise the size and embellishment of the church. Tales abound of miracles associated with the church. Hagia Sophia is the symbol of Byzantium in the same way that the Parthenon embodies Classical Greece or the Eiffel Tower typifies Paris.
No Image Tag
Explore the exceptional Hagia Sophia and Topkapi Palace
Hagia Sophia is former Greek Orthodox Christian cathedral, later an Ottoman mosque and now an historic museum in Istanbul. It is particularly famous for its massive dome. And Synonymous with ottoman style architecture, the Topkapi palace in Istanbul is one of the most top historical landmarks and today sits as one of Turkey's great gems.
Free time for Shopping at Grand Bazaar
One of the largest and oldest covered bazaars in the world, the Grand Bazaar is 30,700 square meters with over 60 streets and alleys and 4,000 shops. The original historical core of the bazaar, Iç Bedesten, was completed by Mehmet the Conqueror in 1461. A "bedesten" refers to an indoor arcade with shops and there are several areas within the bazaar referred to by this name.
Blue Mosque
Sultan Ahmed Mosque, known as the Blue Mosque by many tourists because of its bluish interior decoration, is the most important mosque of Istanbul standing next to the Byzantine Hippodrome in the old city center. It was built by the Ottoman sultan Ahmed I between 1609 - 1616 facing Hagia Sophia, in order to compete with it. Its architect was Sedefkar Mehmet Aga, a poet and inlayer as well, and a student of the greatest architect Sinan. When Ahmed I died in 1617, he was buried near the mosque and a mausoleum was built over his tomb.
Explore top choice Bazaar-Spice Market
The Spice Bazaar in Istanbul, Turkey is one of the biggest bazaars in the city. Situated in the Eminönü quarter of the Fatih area, it is the most applauded secured shopping complex after the Grand Bazaar. Vividly coloured spices are displayed alongside Jewel-like. Stalls include dried herbs, honey, nuts and dry fruits. Surprisingly, this bazaar is the most famous coffee supplier in Istanbul.
Dolmabahce Palace
Dolmabahce Palace built in 19 th century is one of the most glamorous palaces in the world. It was the administrative center of the late Ottoman Empire with the last of Ottoman Sultans was residing there. After the foundation of the Turkish Republic in Ankara, Mustafa Kemal Ataturk transferred all government functions to the youthful capital but on his visits to Istanbul Ataturk occupied only a small room at Dolmabahce Palace as his own. He stayed, welcomed his foreign guests and made a practical center for national, historical and language congress and for international conferences.
Bosphorus Cruise
The Bosphorus cruise is one of the best ways to see Istanbul in its full glory, from the peaks of Sultanahmet's tourist sites, to the famous Ottoman waterfront mansions. There's a few ways to glide along the strait, so check out our guide to the best ways to cruise the Bosphorus.
Cappadocia, Turkey
Goreme Open – Air Museum
One of Turkey's Unesco World Heritage sites, the Göreme Open-Air Museum is an essential stop on any Cappadocian itinerary and deserves a two-hour visit. First an important Byzantine monastic settlement that housed some 20 monks, then a pilgrimage site from the 17th century, this splendid cluster of monastic Byzantine artistry with its rock-cut churches, chapels and monasteries is 1km uphill from Göreme's centre.
Antalya, Turkey
City Tour of Antalya
Enjoy Antalya City Tour view over famous Konyaalti Beach, Old Town, Clock Tower, and Waterfall.
Visit to Duden Waterfall
The Duden Waterfalls are an impressive part of the Duden River on the south east coast and just a short bus ride or about a 10 minute drive from Lara Beach.
The river flows from the magnificent Taurus Mountains through to the Mediterranean Sea. The cool waters are split into two plateaus, we recommend visiting the Upper Duden falls, as they are more impressive. The Upper Duden falls are 15 metres high and a huge 20 metres wide, set in a gorgeous, green forestry, deep in a pretty valley. Sit in the naturally eroded cave and watch the water fall as a blanket over the cave entrance. Listen to the relaxing sound of the water cascading over the rocks into the warm pool below.
Pamukkale, Turkey
Ruins of Ancient Roman City Hierapolis
The ancient city is divided by the main street which is about 1 km long. There are columnar governmental galleries on both sides. There are also monumental entrances at the beginning and at the end of the main street. The area is outside of the Byzantine city walls, because the gates, most of the main street, and most of the side streets were built in the Roman Period. The South Byzantine Gate on the south edge of the city is dated at 5 A.D. The well-preserved North Gate has two round towers and inscriptions in Greek and Latin honoring Emperor Domitian. That's why the gate is also called the Domitian Gate. The gate was built in 82-83 A.D. by Julius Sextus Frontinus. The gate is also known as Frontinus Gate because of its architect. The entrance is situated where the city walls cross the street.
Kusadasi, Turkey
House of Virgin Mary ( Meryemana )
House of Virgin Mary is located on the top of the "Bulbul" mountain 9 km ahead of Ephesus, the shrine of Virgin Mary enjoys a marvelous atmosphere hidden in the green. It is the place where Mary may have spent her last days. Indeed, she may have come in the area together with Saint John, who spent several years in the area to spread Christianity. Mary preferred this remote place rather than living in crowded place.
Ephesus ancient city
Ephesus is an ancient city in Turkey's Central Aegean region, near modern-day Selçuk. Its excavated remains reflect centuries of history, from classical Greece to the Roman Empire – when it was the Mediterranean's main commercial center – to the spread of Christianity. Paved streets wind past squares, baths and monumental ruins. The Temple of Hadrian was built before 138 A.D. for Emperor Hadrian's visit.
Terms & Conditions
RTT - RIVIERA TOURS AND TRAVEL
Rate of Exchange (ROE) will be taken into account for making land component's final payment.
This rate is applicable for Indian nationals only. Other nationalities are requested to contact our tour experts for more details on pricing policy.
The standard hotel check-in time is 14:00 hrs and check out 12:00 hours.
The breakfast timing at international hotels is mostly from 6:30 hrs to 10:00 hrs.
The grant or refusal of a visa is up to the sole discretion of a particular government, consulate or embassy, and RTT should not be held responsible for the delay, denial or non-issuance of visa to travelers. Apart from this, RTT will not be responsible for any additional expense or loss resulting from it.
Excessive consumption of alcoholic drinks while traveling will put you in trouble, especially during visa on arrival, immigration, and other vital procedures that determine your entry to the country.
It is significant to ensure that your passport possesses a 6 month-validity (9 months in the case of Malaysian passport) from the date of return. Whether or not you're eligible for visa on arrival, we request you to obtain your visa, prior to departure.
Should you've any travel related query or have to face any kind of difficulties during your vacation, we request you to bring them to the attention of RTT's staff or hotel / transport service provider on immediate basis. If the complaint is not resolved to your contentment, you can forward us a formal complaint in writing within 28 days of your return. We assure you to get back to you with a practical yet sensible solution.
If you don't receive the travel arrangements as promised by RTT's agents or staff, we assure to make appropriate compensation.
RTT should not be held responsible for any negligence or ineffectiveness of services provided by third parties, such as airlines and hotels.
RTT is only a tour operator and should not be held liable for your own acts on account of misconduct or personal affairs. For instance, RTT or its team cannot guarantee the safety of your personal belongings or vital documents at any point of your vacation.
RTT should not be held responsible for any kind of damages or misconduct done by guests during tour.
At RTT, we take all rational effort to provide accurate and genuine information on our website. Nevertheless, we cannot assure the exactness of all information, particularly images that depict the services made available by hotels and other third party service providers.
For a hassle-free vacation, we recommend you to avail of a travel insurance plan through one of RTT's sales agents, prior to departing from your destination. However, extra charges may apply.
What we mean by 'seat-in-coach' is to make available comfortable van / bus/ coach for arrivals, departures, or sightseeing. However, please be informed that when you choose to tour on SIC basis, you will be required to share transportation with other guests. If you don't approve the same, we recommend you to take advantage of a private vehicle by paying extra charge.
To ensure an unperturbed holiday experience, it is advisable to carry your valid travel documents by way of passports, visas and important documents while traveling.
In such circumstance when a client applies for documents relevant for traveling, such as visa, through RTT and later the tour is cancelled because of the unavailability of these documents, no refund will be made to the client. Moreover, clients are not eligible for any claim of payments or cash deposits that are non-refundable.
Unless otherwise paid for it, no separate bed will be provided to a kid accompanying his or her parents. However, if you want an extra bed for your kid, you can get one by directly making payment to the hotel. Furthermore, no refund will be done in such instance wherein you've already paid for the bed and don't want to avail of it.
RTT reserves the sole right to amend or update the abovementioned terms and conditions at any time without any prior notice.