Stunning Seychelles
seychelles
Beach , Family , Honeymoon , Island , Luxury , Romantic , Spa & Wellness
Departure : Arrive seychelles from any where and get started
Seychelles
Here, you have the opportunity to experience unparalleled luxury: a level of refinement that is head and shoulders above that on offer in other tropical holiday destinations. Here, you will discover the true meaning of 'beauty' – a realisation that will compel you to return to Seychelles' shores time and again
Contact Riviera Tours and Travel for
Seychelles Exotic Packages: Seychelles Luxury Tour Packages ; Seychelles Honeymoon Tour Packages:Seychelles Family Packages ;Seychelles Fly And Stay Packages; Seychelles couple tour Packages; Seychelles Sightseeing Packages; Seychelles Romantic Packages ; Seychelles Cruise Packages; Seychelles Affordable Packages >> for more details and getting quote just call us or write to us on info@rivieratours.in
Tour Highlights
FLIGHT & TRANSPORT
Return Airport transfers
Inter-island ferry transfers
All Ferry-hotel transfers
All transfers on SIC basis

ACCOMMODATION
3 Night(s) in Praslin Island at Berjaya Praslin Beach Resort or similar

MEALS
3 Breakfast
Day Wise Itinerary
DAY 1: India To Seychelles
Upon arrival at Seychelles International Airport, you will be transferred from airport to the Mahe Jetty for your ferry towards Praslin. Arrive Praslin. A wicked seductress, Praslin has lots of temptations: stylish lodgings, tangled velvet jungle that's ripe for exploration, curving hills dropping down to gin-clear seas, gorgeous stretches of silky sand edged with palm trees and a slow-motion ambience. No, you're not dreaming, but this is the Seychelles you dreamed of when you first imagined this tropical archipelago. Proceed for your transfer from Praslin Jetty to your Hotel in Praslin. Check in into your hotel and rest of the time is at leisure to explore the resort. Overnight stay at hotel. (No meal)
DAY 2: Praslin

Breakfast at hotel. After breakfast you have the whole day at leisure today, Praslin, the second largest island, is an UNESCO World Heritage Site of indigenous palms and beaches regularly voted the world's best. Vanilla vines and delicate orchids fill the forests of the area offering a stunning ecological diversity. The rest of the day is at leisure to explore the island. You may want to relax and enjoy your resort facilities or venture out to get a feel of this island.
Breakfast

DAY 3: Praslin

Breakfast at hotel. After breakfast you have the whole day at leisure today to spend as you wish on this tropical paradise. Why not visit the Botanical Gardens You can see the only other location apart from the Vallee de Mai, where the 'Coco De Mer' grows and also see the giant tortoises in their enclosure.
Breakfast

DAY 4: Praslin / India
Today is your last day before you head out back to India via your flight. We recommend going hiking on your last day, to discover the untouched greenery. There are gorgeous trails which take you through the lush forests which open out to the clear white beaches. You will be blown away by this experience.After exploring Praslin, check out from your hotel, and take your ferry back from the jetty to Mahe where the international airport is. Travel back to India with exotic memories to last you a lifetime.
Breakfast
Tour Inclusions
FLIGHT & TRANSPORT
Economy Class Return Airfare (INR 35,000/- Airfare consider as of now. Airfare is subject to availability at the time of booking)
Airport To & From hotel transfer.
All transfers on SIC basis

ACCOMMODATION
3 Night(s) in Praslin Island at Berjaya Praslin Beach Resort or similar

SIGHTSEEING
FLIGHT & TRANSPORT
Return Airport transfers
Inter-island ferry transfers
All Ferry-hotel transfers
All transfers on SIC basis
MEALS
3 Breakfast
Tour Exclusions
Personal Expenses such as alcohol and other beverages, telephone calls, tips and laundry.
Cost of Meal.
Any optional program
Anything which is not Mentioned in Inclusion.
Travel Insurance
Any Surcharge if applicable on your Travel Dates.
Guide Tips
5% GST will be additional on Total Tour Cost
Optional in Package
Reef Safari Sainte Anne Marine Park Seychelles
The Reef Safari Sainte Anne Marine Park excursion is the most popular excursion in Seychelles.
What's Included:
Pick up and Drop off from/to Hotel – Full Day Excursion Boat Trip on Catamaran 'Anahita' – Snorkeling & Swimming – Free use of Snorkeling Equipments – Buffet Lunch & Water – Guitarist Entertainment During Lunch – Moyenne Island Visit (inc Giant Tortoise) – Tropical Cocktail during return Trip
Departure:
You will start your day early with a pick up from your hotel and be transferred to your Catamaran 'Anahita'. From the Marine Charter, you then set sail on this full day excursion to explore Sainte Anne Marine Park and Moyenne Island. It takes only about 20 Minutes to slowly cruise out of the harbor to reach the Sainte Anne Marine Park. During the cruise you can enjoy the views whilst sunbathing on the deck of the Catamaran.
Semi-Submersible Vessel:
The Semi-Submersible waits for the Catamaran in the Marine Park. Upon reaching the Marine Park small groups will take turns to be transferred onto the Semi-Submersible vessel. The lower deck of the Semi-Submersible is comfortably air-conditioned. You will be seated in rows surrounded by large glass windows. Through the glass colorful fishes in the marine park will be clearly seen right up close. Were it not for the glass in between, you would be able to touch them.
Feeding the Fishes:
Fish food will be provided for the fish feeding. From the deck of the Catamaran 'Anahita', there is great opportunity to feed the fishes. A large number of different fishes are always ready and waiting to be fed. It is a fun and a once in a lifetime experience, especially for the kids.
Buffet Lunch:
A delicious sumptuous buffet lunch is intricately prepared and served on board. It is very well laid out and presented. In the background a guitarist provides some light entertainment.
Moyenne Island:
After enjoying lunch, you climb aboard a dinghy which takes you to Moyenne Island. There, you can walk around and enjoy the company of the numerous land tortoises roaming around freely and harmlessly. Remember to take pictures with them. Thereafter, spend the rest of the day relaxing on Moyenne's two wonderful beaches.
Return:
On the leisurely cruise back to Mahe a Tropical Cocktail is served. This then ends your wonderful memorable day excursion of the Marine Park. Pictures you take will be everlasting memories of the Sainte Anne Marine Park and the Reef Safari.
You will be dropped off at your hotel after returing back on Mahe.
Book Now:
Date
Best Time to Visit
Climate
seychelles enjoys a relatively mild climate. Although temperatures are rather moderate throughout the year with occasional rainfall, the most pleasant times to visit the island are between the months of April and May and October and November.
Map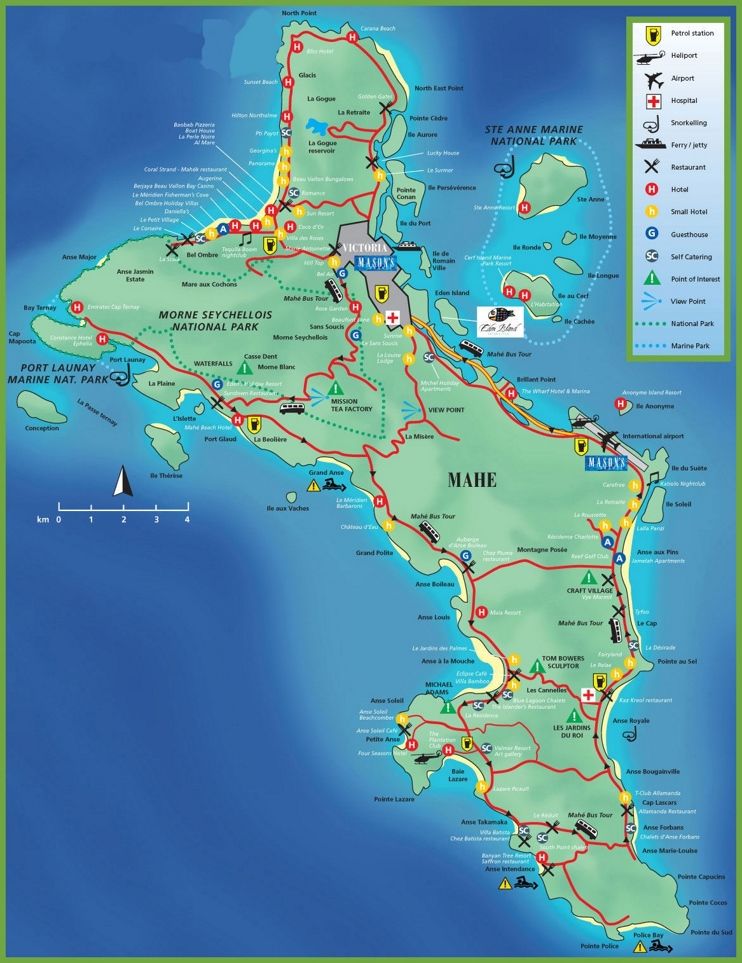 Sightseeing
Things to Do
As mentioned before, the country is full of beaches and natural beauty that will leave you mesmerized. Here are some of the places that you can consider adding to your online Seychelles holiday packages:
• Visit the Anse Volbert
Located on the island of Praslin, this place is a must include in your Seychelles travel package. It is known as the Côte d'Or which means the Golden Coast. It is said to be one of the prettiest beaches in Seychelles. Because of its soft sand and shallow waters, the beach is the ideal place for children as well.
• Beau Vallon
Located in the northwest coast of Mahe, opposite Victoria – Beau Vallon is yet another popular destination that can be included in your Seychelles packages from India. The beach offers a wide shoreline and makes for a great place for participating in various water activities. You can go fishing, scuba diving, boating, and snorkelling as well as lay by the beach and spend some quality time together.
• Explore Victoria Market
One of the must-do things and places that your honeymoon package to Seychelles should include is the Victoria Market. The market offers a diverse range of artefacts that you can buy and gift as souvenirs to your friends and family.
Photo Gallery
Video Gallery
Tour FAQs
Given cost is estimated, based on lowest hotel rates existing as of now. We dont hold any confirmation for Hotels/Airline. Its subject to availability at the time of booking. Any difference in cost shall be borne by the passenger.
Any further increase in airfare due to increase in the fuel prices, change in government regulations, taxes, etc. charged by the airline will have to be borne by the passengers. Riviera will not be held responsible for them. Above rates are subject to change without prior notice.
Above rates are calculated as on todays ROE.
Above rates are subject to availability & confirmation by the airline & Hotel.
Water is always available at additional charges. No separate water bottle supply during Breakfast, Lunch & Dinner. It could be common water Jars as per their policy. Kindly purchase the water for your own usage.
Things to carry: Beach wear, slippers, Sunglasses, Sunscreen lotion, a light sweater, Toiletries, Medicines, Camera Rolls, Tea/ Coffee sachets, Umbrella, windcheater.
Your tours and transfers are based on Seat in Coach Basis. Seat in Coach Transfers departs only at fixed time and stops at different Hotels enroute where other passengers may be picked /dropped off. It can be more time consuming but economical.
Mid night surcharge applicable for all transfer operated between 2300hrs-0600hrs
Room allocation Twin rooms /Double room will be as per the availability at the time of check in. 90% of rooms are Twin rooms and there is no guarantee for room with Double Bed.
Room Rates based on Standard Rooms. Supplement cost will be applicable for Sea facing/Lake Facing Rooms.
Optional sightseeing has to be booked in advance on your own by paying an additional cost. You can contact Hotel travel desk counter or our agent to book optional sightseeing.
It is recommended to buy Local SIM Card, to make local calls for reconfirmation with coach drivers, operators, airline office...
There is No Refund for unutilized Service
International Hotel Check in time 1400hrs, Check out Time 1200hrs
You are not allowed to eat/drink in coach.
The above program is only indicative and the passenger has to verify each days program from the local guide.
Photographs are compulsory for on arrival visas. Please keep one passport Copy Xerox and one Ticket copy Xerox ready to be submitted for on arrival visas.
It is always advisable to keep 2 Photographs with you during the journey. Please keep one Xerox copy of your passport with your relative, in India and one Xerox copy of passport with you during the travel.
It is most important to have International Travel Insurance for the entire period of your stay in foreign country.
If any refund it will be processed only by Cheque.

Note:

New Year surcharge rates are not available in above given rates.
5% Government Tax Applicable On Total Tour Cost (INR+USD).
Full Payment Will Be Accepted In Indian Rupees only.
Dollar Portion Payment Should Be Done At One Time & Rate Of Exchange Will Be Applicable On That Day.
To Grab The Honeymooners Freebees Wedding Card Is Must.
For NRI Passengers staying in India for more than 180 days will have to take Police Clearance Certificate from Commissioner of Police for which Riviera will not be responsible Passengers are requested to submit Xerox copy of Passport along with page showing arrival stamp in India.

Payment Policy

Initial deposit - Rs. 25,000/- to confirm youre booking with us.
100% payment is to be made on or before time limit which will be given once the Hotel is blocked Total Payment in INR as per the prevailing exchange rate on the date of Final payment.

Cancellation Policy

35 Days prior to Departure or at the time of Booking Confirmation whichever comes first 25% of Total tour cost.
34 Days to 15 Days prior to Departure 50% of Total tour cost
14 Days to 1 Day prior to Departure 100% of Total tour cost.
Cancellation in Airline tickets will be as per Airline terms and condition
In case of non-refundable hotel and Hotel deadline cancellation amount will be charged accordingly